Mornington Art Show 2021

Preview of the 2021 Mornington Art Show is now available- see below.
To personalise your search, you can use the filters to reduce your selections. Filters available include: categories, genres, size and Artist's name.
VICTORIA'S FIRST PHYSICAL ART SHOW FOR 2021
Our traditional Art Show will provide the community with opportunities to view and enjoy the artworks and make purchases at the actual show. The 2021 Mornington Art Show, to be held at the Peninsula Community Theatre.
Virtual Online Sales
Online sales will be available from Sunday 24 until Sunday 31 2021. This will provide extra opportunities for Art Lovers to purchases art works beyond the closing date.
Many of the Virtual artists are from interstate and are new to our Art Show. Some examples of works that will only be seen in the Virtual show on our website are below.
1. Artist: Peter Sutherland Title: Black Magic Woman
2. Artist: Meled Taouk Title:Coffee and Cigarettes
3. Artist: Eric Shepherd Title: Cooling Off
Please note that Delivery to the Art Show will be Sunday January 17, 2021 with an extended time of 8:30am until 4:00pm.
SPONSORS
A big thank you to all sponsors who have supported the Mornington Art Show for 2021 during this unprecedented year.
Guest Artist John Stroomer, a local potter, will be exhibiting a range of his beautiful pottery for display and purchase.
John Stroomer is an accomplished international potter with an insatiable passion for his work; its conception, the process, the execution and ultimately, the end result. John lives on the Mornington Peninsula and is thrilled to be showing his work at this year's Art Show.
John has been a potter for over twenty five years, in his latter-day work John has striven for perfection in the use of often volatile Crystaline-Glazes as well as more traditional forms of porcelain decoration.
Examples of John's works

NEWS NEWS NEWS
Opening Night

for the Mornington Art Show on Thursday January 21. A limited number of tickets (50) will now be available for purchase online from Friday 8 January, 2021. The cost per ticket is $25.00.
Scroll down to find the Book online now button for ticket sales.
There will be NO DOOR sales.
Key Dates for 2021

ARTISTS:

Submissions open Sunday November 22, 2020
Submissions close Sunday December 20, 2020
Notification to successful artists Saturday January 2, 2021
Delivery of Artworks Sunday January 17, 2021 between 8:30am - 4:00pm
Pick up of unsold Artwork Wednesday January 27, 2021 between 8:30am - 3:30pm
Art Show Dates
Opening Night Thursday January 21, 2021 from 7:00pm (Invitation only due to Covid restrictions)
Art Show open daily Friday January 22, 2021 between 10:00am - 5:00pm
Art Show closes Tuesday January 26, 2021
Online sales from Sunday 24 -Sunday 31, 2021
LOCATION
Peninsula Community Theatre
Cnr. Wilsons Road & Nepean Highway, Mornington
Couriers:
Noble Couriers
Mobile: 0418 175 307
Email: do.noble@bigpond.com
'Pack & Send' Moorabbin
Gallery 247 are pleased to announce a service for artists and art shows that will make it even easier for you to enter art shows that might otherwise have been too inconvenient or too far away.
Thanks to an alliance with Pack & Send Moorabbin, we are able to provide convenient drop-off, delivery and return services for any work that's been accepted into the Mornington Art Show.
Use your Local Pack & Send office to deliver to the Moorabbin Pack and Send to ensure delivery on the correct day to the Mornington Art Show.
Purchasers of Art works can also use Pack and Send for delivery of your new artwork to your home.
Date: Thursday Jan 21, 2021, 7:00 pm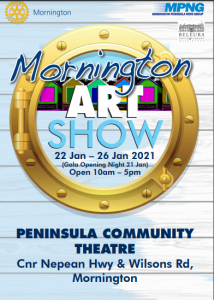 Gale Opening Night
Sorry: Event is Fully Booked
View ...